What Is Cardamom Essential Oil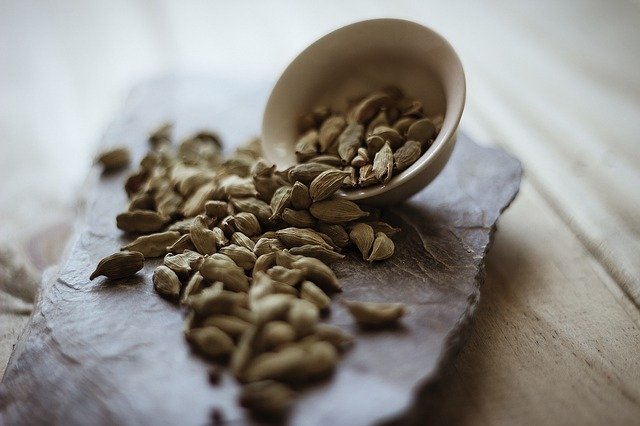 Cardamom Essential Oil is obtained by steam distillation from seeds of the Cardamom ( Elettaria Cardamomum ) plant, which is a member of the ginger family.
Start Making Your Own Essential Oils- Check The Offer Bellow
---
Cardamom Essential Oil Uses
Cardamom is one of the most used domestic spices in the world with remarkable health benefits. It has been used for over 3000 years, even Hippocrates valued it, who recommended it for coughs, nervous disorders, abdominal pains, spasms, sciatica, urine retention, as well as for bites of venomous creatures. With its warming, refreshing and uplifting effect it could be used for a wide array of health concerns. In Chinese and Indian folk medicine cardamom has been used for treatments of pulmonary concerns, digestive problems, fever, and urinary complaints. Cardamom Essential oil was first being distilled in Europe in the sixteenth century and since then was used for treating digestive problems, such as indigestion, intestinal cramps, flatulence, dyspepsia, nausea, gastric migraine, heartburn, constipation, irritable bowel syndrome, colitis, and Chron's disease. It is also used for muscular cramps and strains, muscular spasm, and bronchial congestion. Cardamom Essential Oil has beneficial effects on the nervous system and can be used for relieving nervous strain and mental fatigue & exhaustion. Truly a unique oil with amazing health benefits.
---
Cardamom Essential Oil Benefits
Therapeutic properties of Cardamom Essential Oil are known as an analgesic, anti-inflammatory, antiseptic, antispasmodic, aphrodisiac, calmative, carminative, cephalic, digestive, diuretic, stimulant, stomachic and tonic ( nerve ).

---
About Cardamom Essential Oil
Cardamom Essential Oil is a colorless to pale yellow liquid with a warm, sweet-spicy aroma with a subtle citrus note. It blends well with Bay, bergamot, black pepper, cedarwood, cinnamon leaf, clove bud, coriander seed, fennel, ginger, grapefruit, jasmine, lemon, mandarin, palmarosa, rosewood, rose, sandalwood, and ylang ylang.
---
Essential Oil Safety Guide For Cardamom Essential Oil
Cardamom Essential Oil is considered non-toxic, non-irritant, non-sensitizing. No contraindications are known. Despite GRAS status, essential oils shouldn't be ingested, unless it's done under doctor supervision. Use it topically in diluted form. Dilute up to 5 drops of essential oil to a tablespoon of carrier oil ( 1% ).
---
---
15 Health Benefits Of Cardamom Essential Oil
aids the digestive system
relieves indigestion, flatulence, and nausea
alleviates intestinal cramps and dyspepsia
soothes heartburn and gastric migraines
prevents constipation
treats irritable bowel syndrome, colitis and Chron's disease
alleviates muscular cramp and strain
relieves muscular spasm
opens bronchial congestions
tonic for the nervous system
reduces nervous strains
alleviates mental exhaustion and fatigue
acts as aphrodisiac
anti-inflammatory agent
promotes urine flow
---
---
Reference:
Ann, V., 2016. The Complete Book Of Essential Oils And Aromatherapy, Revised And Expanded: Over 800 Natural, Nontoxic, And Fragrant Recipes To Create Health, Beauty, And Safe Home And Work Environments. New World Library.
Lawless, J., 2013. The Encyclopedia Of Essential Oils: The Complete Guide To The Use Of Aromatic Oils In Aromatherapy, Herbalism, Health, And Well Being. Conari Press.
Wikipedia: https://en.wikipedia.org/wiki/Cardamom
---
Disclaimer: All information presented on this website is for informational purposes only. These statements have not been evaluated by the Food and Drug Administration. This website is not intended for diagnosis, treatment, treatment or prevention of disease and is not intended for substitution treatment. This information is not meant to cover all possible uses, precautions, interactions or adverse effects. This information may not fit your specific health circumstances. Never delay or disregard seeking professional medical advice from your doctor or other qualified healthcare providers because of something you have read on whatcure.com. Please seek the advice of a healthcare professional for your specific health concerns.
---