What Is Cinnamon Essential Oil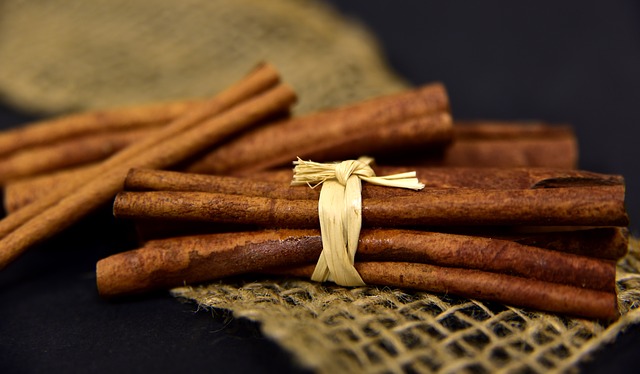 Cinnamon Essential Oil is obtained by steam distillation from leaves, twigs and dried inner bark of a plant botanically known as Cinnamomum zeylanicum ( syn. Cinnamomum verum ).
Cinnamon Bark Oil vs Cinnamon Leaf Oil
There are two types of cinnamon essential oil, known as Cinnamon Leaf Essential Oil and Cinnamon Bark Essential Oil. Usually, Cinnamon Leaf Essential oil is used for aromatherapy.
Start Making Your Own Essential Oils- Check The Offer Bellow
---
Cinnamon Essential Oil Uses
Cinnamon has been highly valued for centuries for its medicinal and aromatic properties. It is one of the most used culinary spices worldwide since ancient times. With its distinctive, calming, warm, earthy and sweet aroma soothes your mind and body. Traditional herbal tradition uses cinnamon for treatments of digestive and menstrual problems, kidney troubles, rheumatism, colds, flu, and as a general stimulant. Cinnamon Leaf Essential Oil can be used for a wide range of health concerns including skin problems, circulation, muscle and joints problems, digestive problems, genito-urinary concerns, weakened immune system, nervous system problems, as well as general aches and pains. It is highly valued as a natural remedy for eliminating lice and scabies, as well for warts. Nowadays more and more cosmetic manufacturers use Cinnamon Leaf Essential oil in dental care products as it has beneficial effects on tooth and gums. Stimulating properties on blood circulation makes it efficient for treating problems with poor circulation and is also a great remedy for arthritis, rheumatism, cold limbs, and muscular injury. Another amazing property of Cinnamon Leaf Essential Oil is a beneficial impact on the digestive. It can be used for relieving anorexia, colitis, diarrhea, dyspepsia, intestinal infection, parasitic infection, sluggish digestion, and intestinal spasms. Among all the beneficial effects of Cinnamon Leaf Essential Oil are also positive impacts on the genito-urinary system as it can be used for treating and relieving symptoms of leucorrhea ( white or yellowish vaginal discharge ), metrorrhagia( abnormal bleeding from the uterus ), scanty periods, frigidity as well for stimulating childbirth ( simulates contractions ). Cinnamon Leaf Essential Oil can be also used for a weakened immune system. Practices showed efficiency in treating chills, colds, flu, fever, coughs, respiratory infection, and infectious diseases. This unique oil has been also used for soothing nervous system problems such as general physical debility, nervous exhaustion, fatigue, and stress-related conditions. So…do not hesitate…try Cinnamon Leaf Essential Oil and enjoy its magical properties. You won't regret it!
---
Cinnamon Essential Oil Benefits
Cinnamon essential oil properties are known as an analgesic, anthelmintic, antibacterial, antifungal, antimicrobial, antiputrescent, antiseptic, antispasmodic, antiviral, antidote, carminative, circulatory, depurative, digestive, emmenagogue, hemostatic, immunostimulant, parasiticide, refrigerant, stimulant (circulatory, cardiac, respiratory), stomachic, and tonic.

---
About Cinnamon Essential Oil
Cinnamon Leaf Essential Oil is yellow to darkish yellow liquid with a warm, spicy, and earthy aroma. It blends well with Bay laurel, bergamot, cardamom, carrot seeds, clove bud, coriander seed, eucalyptus, frankincense, geranium, ginger, grapefruit, lavender, lemon, lemongrass, orange, mandarin, tangerine, and ylang-ylang.
---
Essential Oil Safety Guide For Cinnamon Essential Oil
Cinnamon Leaf Essential Oil is generally non-toxic, although some skin and mucous irritation are possible, due to the chemical composition, therefore use it in moderation. Cinnamon bark essential oil is a dermal toxin, irritant, and sensitizer, therefore its uses should be restricted for aromatherapy. Avoid using it while pregnant, breastfeeding and if using multiple medications or anticoagulants. Do not use it undiluted. Dilute up to 5 drops of essential oil to a tablespoon of carrier oil ( 1% ).
---
---
30 Health Benefits Of Cinnamon Essential Oil
treats skin problems
eliminates lice and scabies
removes warts
improves dental health
boosts blood circulation
alleviates symptoms of arthritis and rheumatism
heals muscular injuries
warms cold limbs
aids the digestive system
relieves anorexia, colitis, and dyspepsia
stops diarrhea
improves sluggish digestion
fights intestinal and parasitic infections
soothes intestinal spasms
maintains genito-urinary health
relieves symptoms of leucorrhea ( white or yellowish vaginal discharge )
treats metrorrhagia( abnormal bleeding from the uterus )
boosts menstrual flow and improves scanty periods
alleviates frigidity
stimulates childbirth ( stimulates contractions )
boosts immune system
treats chills, colds, flu, and fever
relieves coughs and respiratory infections
fights infectious diseases
soothes nervous system
alleviates general physical debility
relieves nervous exhaustion and fatigue
treats stress-related conditions
stimulates the cardiac, circulatory and respiratory system
relieves general aches and pains
---
---
Reference:
Ann, V., 2016. The Complete Book Of Essential Oils And Aromatherapy, Revised And Expanded: Over 800 Natural, Nontoxic, And Fragrant Recipes To Create Health, Beauty, And Safe Home And Work Environments. New World Library.
Lawless, J., 2013. The Encyclopedia Of Essential Oils: The Complete Guide To The Use Of Aromatic Oils In Aromatherapy, Herbalism, Health, And Well Being. Conari Press.
Wikipedia: https://en.wikipedia.org/wiki/Cinnamon_leaf_oil
---
Disclaimer: All information presented on this website is for informational purposes only. These statements have not been evaluated by the Food and Drug Administration. This website is not intended for diagnosis, treatment, treatment or prevention of disease and is not intended for substitution treatment. This information is not meant to cover all possible uses, precautions, interactions or adverse effects. This information may not fit your specific health circumstances. Never delay or disregard seeking professional medical advice from your doctor or other qualified healthcare providers because of something you have read on whatcure.com. Please seek the advice of a healthcare professional for your specific health concerns.
---