What Is Black Pepper Essential Oil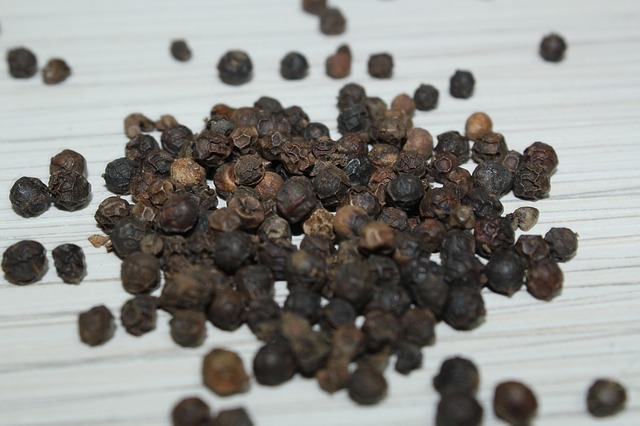 Black Pepper Essential Oil is obtained by steam distillation from dried crushed peppercorns of Piper nigrum plant.
Start Making Your Own Essential Oils- Check The Offer Bellow
---
Black Pepper Essential Oil Uses
Black pepper is one of the most used spices in the world. It has been used as a food flavoring agent, for medicinal purposes, as a preservative, and in cosmetics for over 4000 years. Traditional medicine uses of black pepper include treatments of malaria, digestive problems, cholera, dysentery, diarrhea, stomach ache, and fever. The mendicant monks of India who travel on foot swallow 7-9 grains of pepper a day, as they believe this gives them endurance. Therapeutic uses of Black Pepper Essential Oil include treatments of general aches and pains, digestive problems, and circulatory conditions. It is especially valued for relieving muscular pains, arthritis, rheumatism, neuralgia, and cold limbs. Stimulating effects on the digestive system make this oil useful for treatments of colic, constipation, diarrhea, flatulence, heartburn, loss of appetite, nausea, and stomach cramp. Due to its immunostimulant properties, Black Pepper Essential Oil can be also used to overcome colds, flu, infections, and viruses. It is even a great remedy for alleviating catarrh problems.
Black Pepper Essential Oil For Quit Smoking
Certain studies even showed that Black Pepper Essential Oil suppresses some smoking withdrawal symptoms, including cigarette cravings. This is truly wonderful news for those who want to quit smoking as it can ease withdrawal symptoms and bring relief and happiness to those who are willing to take a step into a healthier life without cigarettes.
---
Black Pepper Essential Oil Benefits
Black Pepper Essential Oil therapeutic properties are known as an analgesic, anticatarrhal, antimicrobial, antiseptic, antispasmodic, antitoxic, aperitif, aphrodisiac, bactericidal, carminative, diaphoretic, digestive, diuretic, febrifuge, immunostimulant, laxative, nervine, restorative, rubefacient, stimulant ( nervous, circulatory, digestive ), stomachic, and tonic.

---
About Black Pepper Essential Oil
Black Pepper Essential Oil is a colorless to pale yellow liquid with a peppery, warm, spicy, and musky aroma that blends well with West Indian Bay, bergamot, cardamom, clove bud, geranium, ginger, grapefruit, juniper berry, lavender, lemon, lemongrass, rosemary, sage, sandalwood, tea tree, and ylang-ylang.
---
Essential Oil Safety Guide For Black Pepper Essential Oil
Black Pepper Essential Oil is considered non-toxic and non-sensitizing. May cause irritations on highly sensitive skins. Use in moderation only. Avoid using it if you are pregnant. Despite GRAS status, essential oils should not be ingested, unless it is done under doctor supervision. Use it topically in a diluted form. Dilute up to 5 drops of essential oil to a tablespoon of carrier oil ( 1% ).
---
---
15 Benefits Of Black Pepper Essential Oil
relieves pains
alleviates muscular pains
improves symptoms of arthritis and rheumatism
treats neuralgia
warms cold limbs
improves blood circulation
aids the digestive system
relieves colic, constipation, diarrhea, flatulence
cures nausea and heartburn
stimulates appetite
soothes stomach cramps
treats colds and flu
fights infections and viruses
alleviates catarrh
suppresses cigarette cravings
---
---
Reference:
Ann, V., 2016. The Complete Book Of Essential Oils And Aromatherapy, Revised And Expanded: Over 800 Natural, Nontoxic, And Fragrant Recipes To Create Health, Beauty, And Safe Home And Work Environments. New World Library.
Lawless, J., 2013. The Encyclopedia Of Essential Oils: The Complete Guide To The Use Of Aromatic Oils In Aromatherapy, Herbalism, Health, And Well Being. Conari Press.
Wikipedia: https://en.wikipedia.org/wiki/Black_pepper
Inhalation of vapor from black pepper extract reduces smoking withdrawal symptoms: https://www.ncbi.nlm.nih.gov/pubmed/8033760
---
Disclaimer: All information presented on this website is for informational purposes only. These statements have not been evaluated by the Food and Drug Administration. This website is not intended for diagnosis, treatment, treatment or prevention of disease and is not intended for substitution treatment. This information is not meant to cover all possible uses, precautions, interactions or adverse effects. This information may not fit your specific health circumstances. Never delay or disregard seeking professional medical advice from your doctor or other qualified healthcare providers because of something you have read on whatcure.com. Please seek the advice of a healthcare professional for your specific health concerns.
---