What Is Cannabis Essential Oil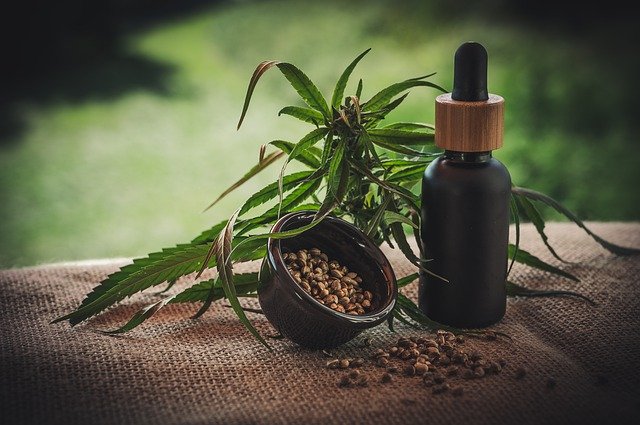 Cannabis Essential Oil or Hemp Essential Oil is obtained by steam distillation from flowers and upper leaves of Cannabis sativa L. plant. It contains only traces of cannabinoids, which doesn't exceed 0.08% of THC or CBD content.
Start Making Your Own Essential Oils- Check The Offer Bellow
---
What Is Hemp Essential Oil 
Cannabis Essential Oil is quite different compared to Hemp Seed Oil or Hash Oil. Hemp Seed Oil is cold-pressed oil that is pressed from the seeds of low THC varieties of hemp and is used as vegetable oil, while the Hash Oil is a THC rich extract from the female flowers of "drug-type" Cannabis plant, that can have up to 90% THC content.
---
Cannabis Essential Oil Benefits
The general properties of this oil are antidepressant, antioxidant, antifungal, antiviral, anxiolytic, antianxiety, anti-inflammatory, relaxant, sedative, antimicrobial, and muscle relaxant.

---
About Cannabis Essential Oil
Cannabis Essential Oil is a pale yellow to light green liquid with a sharp, slightly spicy, herbaceous aroma. It blends well with bay, basil, bergamot, black pepper, clary sage, cypress, frankincense, ginger, lavender, mandarin, rosemary, sandalwood, tea tree, and thyme.
---
Essential Oil Safety Guide For Cannabis Essential Oil
Cannabis Essential Oil is considered non-toxic and non- irritant. No contraindications are known. Avoid using during pregnancy and while breastfeeding. Use it topically in a diluted form. Do not use it undiluted. Dilute up to 5 drops of essential oil to a tablespoon of carrier oil ( 1% ).
---
---
18 Amazing Health Benefits Of Cannabis Essential Oil
reduces pain
improves sleep
alleviates stress and anxiety
skin elixir
aids digestion
improves circulation
prevents cardiovascular diseases
anticancer
improves eye health
increases appetite
treats respiratory issues
fights inflammation
improves sex drive
antioxidant
alleviates headache
reduces nervous disorders
improves mood
soothes sore muscles
---
---
Reference:
Wikipedia: https://en.wikipedia.org/wiki/Cannabis_flower_essential_oil
---
Disclaimer: All information presented on this website is for informational purposes only. These statements have not been evaluated by the Food and Drug Administration. This website is not intended for diagnosis, treatment, treatment or prevention of disease and is not intended for substitution treatment. This information is not meant to cover all possible uses, precautions, interactions or adverse effects. This information may not fit your specific health circumstances. Never delay or disregard seeking professional medical advice from your doctor or other qualified healthcare providers because of something you have read on whatcure.com. Please seek the advice of a healthcare professional for your specific health concerns.
---