What Is Yarrow Essential Oil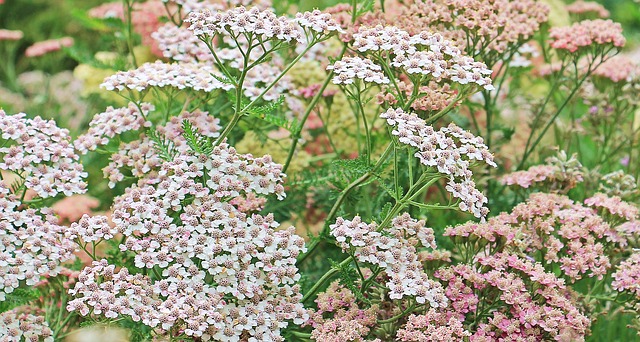 Yarrow Essential Oil is obtained by steam distillation from leaves and flowering tops of a plant botanically known as Achillea millefolium.
Start Making Your Own Essential Oils- Check The Offer Bellow
---
Yarrow Essential Oil Uses
Yarrow has been historically an important herbal medicine, dating back to Achilles, who carried it with his army to treat battle wounds. This amazing herb even got its name from him and has been valued through the world as one of the most healing plants.
The 'Navajo' considered it a 'life medicine'. "Yarrow and tortoiseshell are considered to be lucky in Chinese tradition." British folklore believed that a leaf held against the eyes give second sight and opens sixth sense.
Yarrow has been used for a wide variety of health problems, especially for treating wounds, sores and rashes, respiratory infections, digestive problems, fever, and nervous tensions.
Chinese herbal traditions use yarrow for menstrual problems and hemorrhoids, while Norwegians use it for rheumatism.
Aromatherapy use of Yarrow Essential Oil include treatments of skin problems, such as acne, burns, cuts, eczema, inflammations, rashes, scars, varicose veins, wounds, and for hair growth.
Yarrow Essential Oil is highly valued for its positive impact on the circulation, muscle, and joints, therefore its uses include the treatment of arteriosclerosis, high blood pressure, rheumatism, arthritis, injured or inflamed muscles, muscular cramps, and thrombosis.
It is also a great remedy for the digestive system, as it can be used to treat constipation, flatulence, indigestion, cramps, and hemorrhoids. Yarrow essential oil protects the genito-urinary system and can be used for the treatment of amenorrhoea, dysmenorrhoea, cystitis, and other infections, as well as for menstrual cramps.
It is even great for the immune system as it brings relief from cold, fever, and flu. On top of all that it can be used for soothing the nervous system and treatment of hypertension, anxiety, depression, insomnia, and other stress-related conditions. The unique blue color and medicinal aroma of Yarrow Essential Oil makes this oil a truly an amazing remedy for a wide array of health concerns. With this oil say goodbye to aging skin, so don't hesitate and try it.
---
Yarrow Essential Oil Benefits
Therapeutical properties of Yarrow Essential Oil are known as anti-inflammatory, antipyretic, antirheumatic, antiseptic, antispasmodic, astringent, carminative, cicatrizing, circulatory, diaphoretic, digestive, expectorant, hemostatic, hypotensive, restorative, stomachic, and tonic.
---
About Yarrow Essential Oil
Yarrow Essential Oil is a dark blue liquid with a fresh, green, herbaceous, fruity aroma. It blends well with cedarwood, chamomile, cypress, geranium, juniper berry, lavender, pine, rosemary, and tea tree.
---
Essential Oil Safety Guide For Yarrow Essential Oil
Yarrow Essential Oil is considered non-toxic and non-irritant. May cause sensitization in some individuals. Avoid use if on multiple medications. Use it topically in diluted form. Dilute up to 5 drops of essential oil to a tablespoon of carrier oil ( 1% ).
---
---
24 Health Benefits Of Yarrow Essential Oil
treats skin problems
heals wounds, burns, cuts, rashes, and scars
soothes inflammations
cures acne
treats varicose veins
promotes hair growth
improves circulation
regulates high blood pressure
alleviates arthritis and rheumatism
soothes injured or inflamed muscles
relieves muscular cramps
treats arteriosclerosis
prevents thrombosis
aids digestion
alleviates constipation, flatulence, and indigestion
relieves digestion cramps
treats hemorrhoids
cures cystitis
alleviates menstrual discomfort
treats amenorrhoea, dysmenorrhoea, and menstrual cramps
reduces fever
relieves cold and flu
soothes hypertension
alleviates anxiety, depression, and insomnia

---
---
Reference:
Ann, V., 2016. The Complete Book Of Essential Oils And Aromatherapy, Revised And Expanded: Over 800 Natural, Nontoxic, And Fragrant Recipes To Create Health, Beauty, And Safe Home And Work Environments. New World Library.
Lawless, J., 2013. The Encyclopedia Of Essential Oils: The Complete Guide To The Use Of Aromatic Oils In Aromatherapy, Herbalism, Health, And Well Being. Conari Press.
Wikipedia: https://en.wikipedia.org/wiki/Achillea_millefolium
Antioxidant and Antimicrobial Activities of the Essential Oil of Achillea millefolium L. Grown in France: https://www.ncbi.nlm.nih.gov/pmc/articles/PMC5590066/
Antispasmodic Effects of Yarrow (Achillea Millefolium L.) Extract in the Isolated Ileum of Rat: https://www.ncbi.nlm.nih.gov/pmc/articles/PMC3847392/
Commercial Essential Oils as Potential Antimicrobials to Treat Skin Diseases: https://www.ncbi.nlm.nih.gov/pmc/articles/PMC5435909/
---
Disclaimer: All information presented on this website is for informational purposes only. These statements have not been evaluated by the Food and Drug Administration. This website is not intended for diagnosis, treatment, treatment or prevention of disease and is not intended for substitution treatment. This information is not meant to cover all possible uses, precautions, interactions or adverse effects. This information may not fit your specific health circumstances. Never delay or disregard seeking professional medical advice from your doctor or other qualified healthcare providers because of something you have read on whatcure.com. Please seek the advice of a healthcare professional for your specific health concerns.
---