What Is Chamomile Essential Oil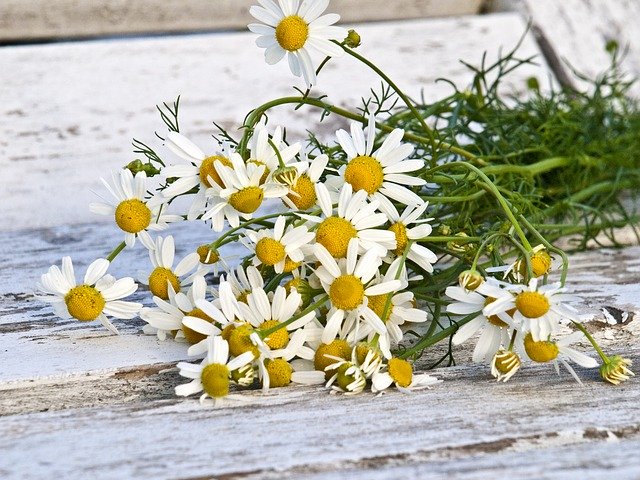 Chamomile Essential Oil for aromatherapy is mostly obtained from flowers of two plants known as German chamomile ( Matricaria recutita ), and Roman or English chamomile ( Anthemis nobilis ) by steam distillation. Despite the fact these two plants belong to different species, they possess quite similar properties and are often used for similar health concerns.
Start Making Your Own Essential Oils- Check The Offer Bellow
---
Chamomile Essential Oil Uses
Chamomile is one of the most used herbs in the world and is considered as one of the 9 sacred herbs of the ancient Anglo- Saxon manuscript, the Lacnunga. Chamomile essential oil is valued as one of the best natural anti-inflammatory and pain-relieving oil on the market. It can be used for a wide array of health concerns including skin problems, digestive and genito-urinary problems, nervous system complaints, circulation, as well as for muscle and joints problems. Therapeutical uses show a beneficial effect on problematic skin problems such as acne, allergies, boils, burns, chilblains, dermatitis, eczema, inflammations of the skin, insect bites, psoriasis, rashes, scars, sprains, strains, sunburn, and wounds. Chamomile Essential Oil is also highly valued for hair care and oral care because it adds shine and softness to your hair and provides relief from a toothache. Another beneficial effect of Chamomile Essential Oil is its impact on the circulation and muscle& joints as it brings instant pain relief in muscular pain, inflamed joints, and neuralgia. It is also a great remedy for muscular spasms, sprains and for relieving symptoms of arthritis and rheumatism. Chamomile Essential Oil has been also used for the digestive system complaints because of its beneficial effect on dyspepsia( pain and discomfort in the upper abdomen ), colic, indigestion, and nausea. Truly amazing oil which can be also used for women problems that are associated with menstruation. With its beneficial effect on the genital-urinary system, it alleviates the problems with Dysmenorrhoea ( menstrual cramps ), menopausal problems, and menorrhagia ( menstrual periods with abnormally heavy or prolonged bleeding ). Chamomile Essential Oil is perhaps one of the best soothing oils for the nervous system problems as it is widely used for relieving headaches and migraines, anxiety, depressions, insomnia, nervousness, and stress-related conditions. One of the safest oils available, even safe enough to use with children. Unique oil with remarkable health benefits…one of my favorites.
---
Chamomile Essential Oil Benefits
Chamomile Essential Oil is known as an analgesic, antibacterial, anti-infectious, anti-inflammatory, antineuralgic, antiphlogistic, antiseptic, antispasmodic, calmative, cicatrizing, depurative, emmenagogue, febrifuge, hepatic, immunostimulant, nervine, stomachic, sedative, and vulnerary.

---
About Chamomile Essential Oil
German chamomile essential oil is an inky-blue viscous liquid, while Roman or English chamomile essential oil is a pale blue liquid. With its warm, sweet, fruity- herbaceous aroma it blends well with bergamot, cedarwood, clary sage, cypress, jasmine, lavender, lemon, marjoram, rose, rosemary, tea tree, and ylang-ylang.
---
Essential Oil Safety Guide For Chamomile Essential Oil
Chamomile Essential Oil is considered non- toxic and non-irritant. May cause dermatitis in some individuals. Generally, there are no contraindications known. Despite GRAS status, essential oils shouldn't be ingested, unless it's done under doctor supervision. Use it topically in a diluted form. Dilute up to 5 drops of essential oil to a tablespoon of carrier oil ( 1% ).
---
---
21 Amazing Health Benefits Of Chamomile Essential Oil
treats skin problems
rejuvenates skin
alleviates acne and skin allergies
treats boils, burns, cuts, rashes, scars, strains, and wounds
improves symptoms of eczema, dermatitis, and psoriasis
relieves inflammations of the skin
soothes insect bites
improves hair health
alleviates toothaches
aids inflamed joints and muscular pain
improves symptoms of arthritis and rheumatism
relieves muscular spasms
soothes neuralgia
aids the digestive system
treats dyspepsia, colic, indigestion, and nausea
relieves menstrual discomfort
alleviates Dysmenorrhoea, menopausal problems, and menorrhagia
soothes nervous system
relieves headaches and migraines
alleviates anxiety, depression, and insomnia
calms nervousness and stress-related conditions
---
---
Reference:
Ann, V., 2016. The Complete Book Of Essential Oils And Aromatherapy, Revised And Expanded: Over 800 Natural, Nontoxic, And Fragrant Recipes To Create Health, Beauty, And Safe Home And Work Environments. New World Library.
Lawless, J., 2013. The Encyclopedia Of Essential Oils: The Complete Guide To The Use Of Aromatic Oils In Aromatherapy, Herbalism, Health, And Well Being. Conari Press.
Chamomile: A herbal medicine of the past with bright future: https://www.ncbi.nlm.nih.gov/pmc/articles/PMC2995283/
Wikipedia: https://en.wikipedia.org/wiki/Matricaria_chamomilla
---
Disclaimer: All information presented on this website is for informational purposes only. These statements have not been evaluated by the Food and Drug Administration. This website is not intended for diagnosis, treatment, treatment or prevention of disease and is not intended for substitution treatment. This information is not meant to cover all possible uses, precautions, interactions or adverse effects. This information may not fit your specific health circumstances. Never delay or disregard seeking professional medical advice from your doctor or other qualified healthcare providers because of something you have read on whatcure.com. Please seek the advice of a healthcare professional for your specific health concerns.
---