What Is Sage Essential Oil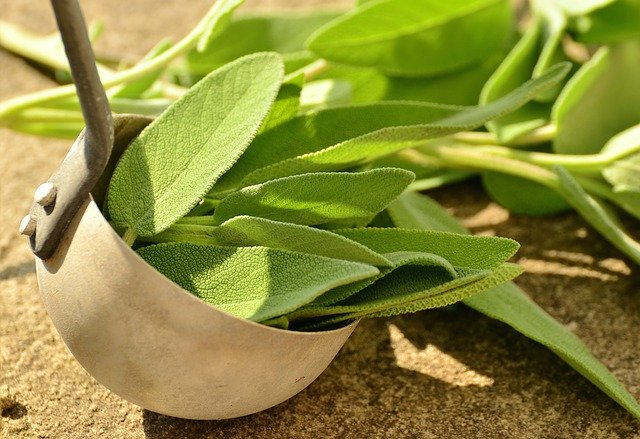 Sage Essential Oil is obtained by steam distillation from leaves and flowering tops of a plant, botanically known as Salvia officinalis. There are several varieties of Salvia, such as Salvia sclarea ( Clary sage ) or Salvia lavendulaefolia ( Spanish sage ) that are closely related to Salvia officinalis. Although they should not be confused, Salvia officinalis is generally not used for aromatherapy( if it is used it must be used with great care and well diluted ), due to higher toxicity level ( thujone ). Some reports claim thujone present in Salvia extracts may be neurotoxic. Therefore Spanish sage and Clary sage are good alternatives.
Start Making Your Own Essential Oils- Check The Offer Bellow
---
Sage Essential Oil Uses
Although is not widely used in aromatherapy, its properties have been shown to be effective in relieving various health problems, such as arthritis, rheumatism, cold limbs, numbness, bronchitis, catarrh, sinusitis, influenza, muscular aches and pain, muscular injuries, tendonitis, painful joints, menstrual pain, menstrual cramp, menopausal symptoms, hot flashes, excess perspiration, varicose congestion, bacterial infections, fungal infections, skin problems, hair loss, stress-related conditions, and heavy& tired legs.
---
Sage Essential Oil Benefits
Therapeutic properties of Sage essential oil are known as antibacterial, anti-inflammatory, antioxidant, antiseptic, antispasmodic, antiviral, astringent, cholagogue, cicatrizing, digestive, diuretic, emmenagogue, expectorant, febrifuge, hypertensive, insecticidal, laxative, stomachic, and tonic.

---
About Sage Essential Oil
Sage Essential Oil is a colorless to pale yellow liquid with a fresh, herbaceous, camphoraceous aroma. It blends well with bergamot, chamomile, clary sage, geranium, lavender, lemongrass, orange, rose, and thyme.
---
Essential Oil Safety Guide For Sage Essential Oil
Sage Essential Oil is considered as an oral toxin ( thujone ) and abortifacient. It must be used with great care and well diluted. It is advised to avoid prolonged use as well as during pregnancy or while breastfeeding. Do not use it if you suffer from epilepsy, high blood pressure, or if on multiple medications. Despite GRAS status, essential oils shouldn't be ingested, unless it's done under a doctor supervision. Use it topically in a diluted form. Dilute up to 3 drops of essential oil to a tablespoon of carrier oil.
---
---
18 Amazing Health Benefits Of Sage Essential Oil
treats muscular aches and pains
soothes painful joints
alleviates arthritis and rheumatism
heals muscular injuries and tendonitis
relieves heavy and tired legs
heats cold limbs
eliminates numbness
alleviates symptoms of bronchitis, catarrh, and sinusitis
cures influenza
soothes menstrual pains and cramps
relieves menopausal symptoms and hot flashes
calms excessive perspiration
treats varicose congestion
boosts skin health
soothes dermatitis, psoriasis, acne, and eczema
fights bacterial and fungal infections
relieves stress, anxiety, depression, and insomnia
decreases hair loss
---
---
Reference:
Ann, V., 2016. The Complete Book Of Essential Oils And Aromatherapy, Revised And Expanded: Over 800 Natural, Nontoxic, And Fragrant Recipes To Create Health, Beauty, And Safe Home And Work Environments. New World Library.
Lawless, J., 2013. The Encyclopedia Of Essential Oils: The Complete Guide To The Use Of Aromatic Oils In Aromatherapy, Herbalism, Health, And Well Being. Conari Press.
Wikipedia: https://en.wikipedia.org/wiki/Sage_oil
Essential Oil of Common Sage (Salvia officinalis L.) from Jordan: Assessment of Safety in Mammalian Cells and Its Antifungal and Anti-Inflammatory Potential: https://www.ncbi.nlm.nih.gov/pmc/articles/PMC3809930/
Chemistry, Pharmacology, and Medicinal Property of Sage (Salvia) to Prevent and Cure Illnesses such as Obesity, Diabetes, Depression, Dementia, Lupus, Autism, Heart Disease, and Cancer: https://www.ncbi.nlm.nih.gov/pmc/articles/PMC4003706/
---
Disclaimer: All information presented on this website is for informational purposes only. These statements have not been evaluated by the Food and Drug Administration. This website is not intended for diagnosis, treatment, treatment or prevention of disease and is not intended for substitution treatment. This information is not meant to cover all possible uses, precautions, interactions or adverse effects. This information may not fit your specific health circumstances. Never delay or disregard seeking professional medical advice from your doctor or other qualified healthcare providers because of something you have read on whatcure.com. Please seek the advice of a healthcare professional for your specific health concerns.
---