What Is Rose Essential Oil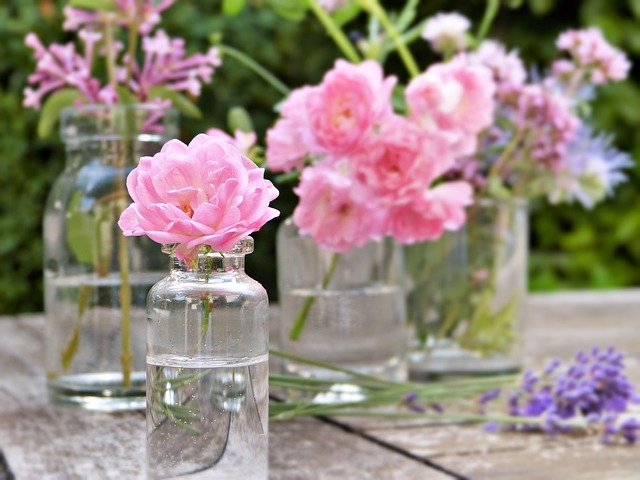 Rose Essential Oil is obtained by steam distillation or solvent extraction from the fresh petals of a plant, botanically known as Rosa centifolia. There are over 10, 000 types of roses, as well as subspecies of R. centifolia. For therapeutic purposes, the following species are mainly cultivated: Rosa damascena ( Turkish or Bulgarian rose ), Rosa gallica ( Red rose or Apothecary rose ), Rosa rugosa ( Chinese or Japanese rose ). For rose fragrance, only 2 types are grown, Rosa centifolia and Rosa damascena. To produce one pound of rose absolute it takes about 6 tons of flower petals, making it one of the most costly and valued essential oils.
?Start Making Your Own Essential Oils- Check The Offer Bellow?
---
Rose Essential Oil Uses
Roses have been an important part of herbal practices since antiquity, especially in Eastern medicine. Healing properties of this heavenly scented flowers are so powerful that they are used for a variety of health problems, including menstrual discomfort, digestive problems, nervous tensions, poor circulation, eye infections, and skin complaints. Rose essential oil promotes tissue regeneration and is a great remedy for burns, scars, and wrinkles as well as for acne, broken capillaries, dry skin, eczema, mature&sensitive complexions, and fat cracks associated with pregnancy. Widely used for treating infertility, menstrual cramps, irregular menstruation, endometriosis, dysmenorrhea, and uterine disorders. Rose Essential Oil is also great for liver congestion, cholecystitis, nausea and stress-related conditions, such as depression and anxiety. Aphrodisiac properties of Rose Essential Oil can be a great aid to those suffering from sexual dysfunction, erectile dysfunction or frigidity. It has been shown that it can help balance hormone levels, which may affect increased sex drive. Rose oil is also used for treating headaches and nervous tensions. Only a few drops in an essential oil diffuser provides an instant feeling of well being and happiness. Smelling roses make every person happy and healthy.
---
Rose Essential Oil Benefits
Therapeutic properties of Rose Essential Oil are known as antidepressant, antiphlogistic, antiseptic, antispasmodic, anti-tubercular agent, antiviral, aphrodisiac, astringent, bactericidal, calmative, choleretic, cicatrizant, depurative, emmenagogue, haemostatic, hepatic, hypnotic, laxative, nervine, regulator of appetite, sedative ( nervous ), stomachic, and tonic ( heart, liver, stomach, uterus ).

---
About Rose Essential Oil
Rose essential oil obtained by steam distillation is a pale yellow liquid with a penetrating, sweet, rosy floral aroma, while solvent extracted rose oil is a reddish-orange liquid with a deep, soft, rich, honey-spicy, rose aroma. It blends well with basil, bergamot, black pepper, cardamom, chamomile, clary sage, clove bud, coriander, fennel, frankincense, ginger, jasmine, patchouli, rosewood, sandalwood, and ylang-ylang.
---
Essential Oil Safety Guide For Rose Essential Oil
Rose Essential Oil is generally considered as a non- toxic, non- irritant, and non-sensitizing. Use it topically in a diluted form. Dilute up to 5 drops of essential oil to a tablespoon of carrier oil ( 1% ).
---
---
36 Health Benefits Of Rose Essential Oil
alleviates menstrual discomfort
soothes menstrual cramps
treats irregular menstruation
boosts fertility
treats endometriosis and dysmenorrhea
alleviates uterine disorders
acts as aphrodisiac
improves sexual dysfunction, erectile dysfunction, and frigidity
balances hormone levels
enhances mood
fights depression and anxiety
aids digestive problems
improves stomach health
helps regulate acid levels in the stomach
treats liver congestion
alleviates cholecystitis
relieves nausea
regulates appetite
protects liver health
soothes nervous tensions
treats headaches
improves circulation
skin elixir
promotes tissue regeneration
boosts healing of burns, scars, and cuts
cures acne, dry skin, and eczema
treats broken capillaries and mature&sensitive complexions
rejuvenates skin
eliminates fat cracks associated with pregnancy
prevents excessive bleeding
fights bacterial infections
purifies and detoxifies the body
acts as laxative
treats eye infections ( hydrolat )
works as a tonic for heart, liver, stomach, and uterus
protects against virus infections
---
---
Reference:
Ann, V., 2016. The Complete Book Of Essential Oils And Aromatherapy, Revised And Expanded: Over 800 Natural, Nontoxic, And Fragrant Recipes To Create Health, Beauty, And Safe Home And Work Environments. New World Library.
Lawless, J., 2013. The Encyclopedia Of Essential Oils: The Complete Guide To The Use Of Aromatic Oils In Aromatherapy, Herbalism, Health, And Well Being. Conari Press.
Wikipedia: https://en.wikipedia.org/wiki/Rose_oil
Therapeutic efficacy of rose oil: A comprehensive review of clinical evidence: https://www.ncbi.nlm.nih.gov/pmc/articles/PMC5511972/
Investigating the effect of rose essential oil in patients with primary dysmenorrhea.: https://www.ncbi.nlm.nih.gov/pubmed/27502800
Comparing the Effects of Aromatherapy With Rose Oils and Warm Foot Bath on Anxiety in the First Stage of Labor in Nulliparous Women: https://www.ncbi.nlm.nih.gov/pmc/articles/PMC4270653/
The effect of inhalation aromatherapy with rose essential oil on the anxiety of patients undergoing coronary artery bypass graft surgery.: https://www.ncbi.nlm.nih.gov/pubmed/30712728
Relaxing effect of rose oil on humans: https://www.ncbi.nlm.nih.gov/pubmed/19370942
Effect of "rose essential oil" inhalation on stress-induced skin-barrier disruption in rats and humans: https://www.ncbi.nlm.nih.gov/pubmed/22167272
---
Disclaimer: All information presented on this website is for informational purposes only. These statements have not been evaluated by the Food and Drug Administration. This website is not intended for diagnosis, treatment, treatment or prevention of disease and is not intended for substitution treatment. This information is not meant to cover all possible uses, precautions, interactions or adverse effects. This information may not fit your specific health circumstances. Never delay or disregard seeking professional medical advice from your doctor or other qualified healthcare providers because of something you have read on whatcure.com. Please seek the advice of a healthcare professional for your specific health concerns.
---