What Is Coriander Essential Oil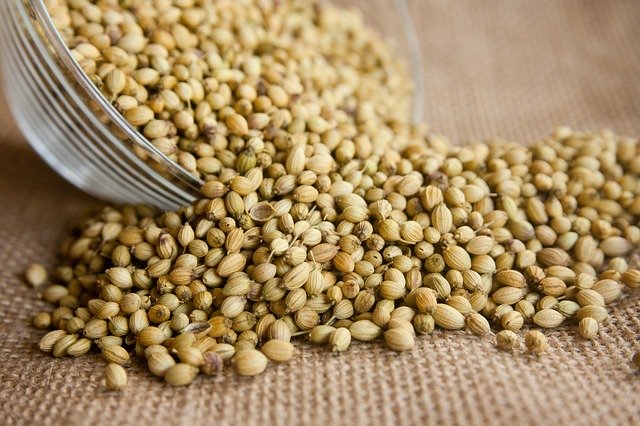 Coriander Essential Oil is obtained by steam distillation from crushed ripe seeds of a plant botanically known as Coriandrum sativum.
Start Making Your Own Essential Oils- Check The Offer Bellow
---
Coriander Essential Oil Uses
Coriander is one of the most used spices worldwide with several health benefits, especially valued for its digestive and stomachic benefits. Coriander seeds were even found in the ancient Egyptian tomb of Rameses II, which shows us how important Coriander was for ancient people. Not just as a spice, also as medicine in the form of tea for treating various health concerns. Therapeutical uses of Coriander Essential Oil include treating digestive problems, flatulence, dyspepsia, bloating, indigestion, diarrhea, abdominal spasm, abdominal discomfort, irritable bowel syndrome, for detoxifying, nervous tension, muscular fatigue, muscular aches and pains, mental fatigue, poor circulation, emotional exhaustion, and nervous exhaustion.
---
Coriander Essential Oil Benefits
Therapeutical properties are known as an analgesic, aperitif, aphrodisiac, antioxidant, antirheumatic, antispasmodic, bactericidal, depurative, digestive, carminative, cytotoxic, fungicidal, larvicidal, lipolytic, regenerative, revitalizing, stimulant, sedative, and stomachic.

---
About Coriander Essential Oil
Coriander Essential Oil is a colorless to pale yellow liquid with a warm, sweet, woody-spicy, slightly musky aroma. It blends well with bergamot, black pepper, cardamom, cinnamon leaf, clary sage, frankincense, ginger, juniper berry, lemon, melissa, orange, palmarosa, sandalwood, spearmint, and ylang-ylang.
---
Essential Oil Safety Guide For Coriander Essential Oil
Coriander essential oil is considered generally non-toxic, non- irritant, and non- sensitizing. Avoid using it during pregnancy or while breastfeeding. Despite GRAS status, essential oils shouldn't be ingested, unless it's done under a doctor supervision. Use it topically in a diluted form. Dilute up to 5 drops of essential oil to a tablespoon of carrier oil ( 1% ).
---
---
Top 30 Health Benefits Of Coriander Essential Oil
promotes digestion
tones stomach
eliminates toxins from the body
aids diabetes
regulates the level of cholesterol
stimulates hormone secretion
soothes joint and muscles discomfort
purifies the blood
alleviates nausea
helps you lose weight
increases libido
natural aphrodisiac
toning and rejuvenating to the skin
alleviates menstrual discomfort
treats toothache, headache, and earache
treats spasms
eliminates intestinal gas
reduces pain
treats fungal and bacterial infections
improves appetite
aids bronchial congestion
treats coughs, colds, and influenza
eases anxiety, stress, and depression
alleviates tension
improves circulation
treats arthritis, gout, and rheumatism
improves anorexia
soothes nervous system
stimulant
eliminates bad breath
---
---
Reference:
Ann, V., 2016. The Complete Book Of Essential Oils And Aromatherapy, Revised And Expanded: Over 800 Natural, Nontoxic, And Fragrant Recipes To Create Health, Beauty, And Safe Home And Work Environments. New World Library.
Lawless, J., 2013. The Encyclopedia Of Essential Oils: The Complete Guide To The Use Of Aromatic Oils In Aromatherapy, Herbalism, Health, And Well Being. Conari Press.
Wikipedia: https://en.wikipedia.org/wiki/Coriander
Coriander (Coriandrum sativum L.) essential oil: its antibacterial activity and mode of action evaluated by flow cytometry: https://www.ncbi.nlm.nih.gov/pubmed/21862758
Antioxidant and hepatoprotective potential of essential oils of coriander (Coriandrum sativum L.) and caraway (Carum carvi L.) (Apiaceae): https://www.ncbi.nlm.nih.gov/pubmed/20608729
---
Disclaimer: All information presented on this website is for informational purposes only. These statements have not been evaluated by the Food and Drug Administration. This website is not intended for diagnosis, treatment, treatment or prevention of disease and is not intended for substitution treatment. This information is not meant to cover all possible uses, precautions, interactions or adverse effects. This information may not fit your specific health circumstances. Never delay or disregard seeking professional medical advice from your doctor or other qualified healthcare providers because of something you have read on whatcure.com. Please seek the advice of a healthcare professional for your specific health concerns.
---