What Is Lavender Essential Oil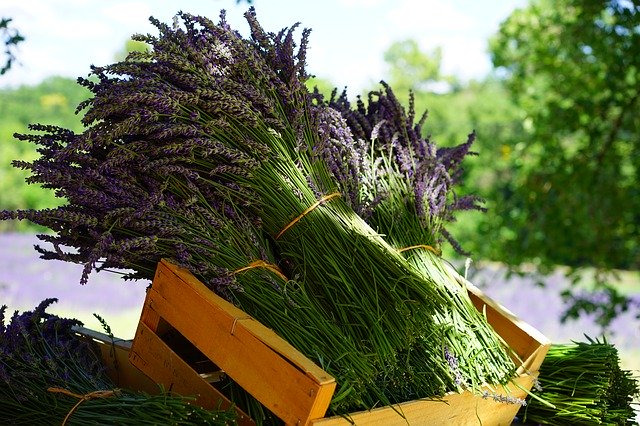 Lavender Essential Oil is obtained by steam distillation or CO2 extraction from the flowering tops of 2 different plants, known as Lavandula Angustifolia ( True Lavender ) and Lavandula Latifolia ( Spike Lavender ). Although very similar plants, they have different therapeutic properties but can be used for similar health concerns. Spike Lavender produces three times as much essential oil as true lavender, it is cheaper and is also used as an adulterant. There are many types of lavender.
Start Making Your Own Essential Oils- Check The Offer Bellow
---
Lavender Essential Oil Uses
Lavender Essential Oil is the most used oil in the world. Its been in use since ancient times for therapeutically and cosmetically purposes. Egyptians used it also for mummification. Lavender Essential Oil was used in World war 1 to disinfect walls and floors in hospitals, due to its amazing antibacterial and antimicrobial properties. Pouches filled with lavender flowers are one of the best natural protection against moths in closets. Before the invention of fabric softener, lavender was one of the best natural alternatives for scenting clothes. Lavender is nowadays widely used for soaps, perfumery, shampoos, and other skin products. Scientific studies showed several health benefits of this heavenly scented plant. Lavender has been used for centuries as a folk remedy for a wide variety of health concerns. Essential oil as a superb remedy brings relief for health problems such as skin infections and inflammatory conditions, muscular spasms and contractions, abdominal cramp, rheumatism, neuralgia, toothache, and sprains. It makes wonders when it comes to wounds, cuts, grazes, rashes, acne, and stress-related eczemas. Lavender Essential Oil can be used with great success to treat psoriasis, sunburns, burns, itchy skin, and insects bite. Several studies confirmed its amazing ability to bring relief to headaches and migraines, as well as anxiety, tension, stress, depression, insomnia, nervousness, and related conditions. In disorders such as hysteria, palsy or similar disorders of debility and lack of nerve power, lavender works as a powerful stimulant. Its restorative and tonic properties make lavender essential oil as one of the best natural remedies against faintness. Only a few drops of lavender essential oil in a hot footbath brings instant relief to fatigue. It may be helpful with diabetes and slowing aging, due to its antioxidant properties. Wonderful aroma works as a stimulant and improves brain function. Studies confirmed that inhaling lavender essential oil improves cognitive impairments and prevents brain oxidative stress, therefore it can be used as a natural treatment for Alzheimer's disease. Lavender is also great for improving blood circulation, it can lower blood pressure and ensures the body to get enough oxygen to function properly.
---
Lavender Essential Oil Benefits
Therapeutic actions of Lavender essential oil are known as an analgesic, antibacterial, anticonvulsive, antidepressant, anthelmintic, anti-infectious, anti-inflammatory, antiseptic, antirheumatic, antispasmodic, antivenomous, antimicrobial, carminative, cicatrizing, cytophylactic, cholagogue, choleretic, cordial, deodorant, diuretic, emmenagogue, hypotensive, insecticide, nervine, rubefacient, sedative, soporific, stimulant, tonic, and vulnerary.

---
About Lavender Essential Oil
Lavender Essential Oil is colorless to pale yellow liquid with fresh, sweet, floral-herbaceous aroma. It blends well with the majority of essential oils, especially citrus and florals oils. It also blends well with basil, bergamot, black pepper, cedarwood, chamomile, clary sage, cypress, clove, eucalyptus, frankincense, geranium, ginger, grapefruit, juniper berry, lemongrass, pine, rosemary, spearmint, tea tree, thyme, and yarrow.
---
Lavender Essential Oil Precautions
Lavender essential oil is generally considered as non- toxic, non-irritant and non-sensitizing. Although some adverse effect can occur. It can cause prepubertal gynecomastia, which causes breast development in young boys. Therefore use it in moderation. Despite GRAS status, essential oils shouldn't be ingested, unless it's done under doctor supervision. Use it topically in diluted form. Dilute up to 5 drops of essential oil to a tablespoon of carrier oil ( 1% ).
---
---
36 Health Benefits Of Lavender Essential oil
reduces stress-related conditions ( anxiety, depression, insomnia,… )
relieves fatigue
mood enhancer
acts as restorative and tonic against faintness, palsy, and weak giddiness
helps to restore hormonal balance
promotes neuroprotective activity
treats headaches and migraines
alleviates inflammatory conditions
boosts wound healing
treats skin infections
soothes psoriasis and eases eczema
alleviates acne
treats sunburns and burns
heals scars
stimulates skin growth
skin elixir
antioxidant
may help with diabetes
promotes longevity
alleviates muscular spasms and contractions
relieves neuralgia
treats rheumatism and arthritis
eases respiratory problems
relieves pain
improves brain function
may help with Alzheimer's disease
promotes blood circulation
regulates the blood pressure balance
stimulates menstrual flow
expels intestinal worms
promotes the discharge of bile from the system
stimulates urine flow
aids in digestion
restores scalp and hair health
alleviates toothache
works as an insect repellent
---
---
Reference:
Ann, V., 2016. The Complete Book Of Essential Oils And Aromatherapy, Revised And Expanded: Over 800 Natural, Nontoxic, And Fragrant Recipes To Create Health, Beauty, And Safe Home And Work Environments. New World Library.
Lawless, J., 2013. The Encyclopedia Of Essential Oils: The Complete Guide To The Use Of Aromatic Oils In Aromatherapy, Herbalism, Health, And Well Being. Conari Press.
Wikipedia: https://en.wikipedia.org/wiki/Lavender_oil
Antibacterial activity of thyme and lavender essential oils: https://www.ncbi.nlm.nih.gov/pubmed/22313307
Essential oil of lavender in anxiety disorders: Ready for prime time: https://www.ncbi.nlm.nih.gov/pmc/articles/PMC6007527/
The Protective Effect of Lavender Essential Oil and Its Main Component Linalool against the Cognitive Deficits Induced by D-Galactose and Aluminum Trichloride in Mice: https://www.ncbi.nlm.nih.gov/pmc/articles/PMC5424179/
Lavender and the Nervous System: https://www.ncbi.nlm.nih.gov/pmc/articles/PMC3612440/
Effect of Lavender (Lavandula angustifolia) Essential Oil on Acute Inflammatory Response: https://www.ncbi.nlm.nih.gov/pmc/articles/PMC5878871/
Lavender Fragrance Essential Oil and the Quality of Sleep in Postpartum Women: https://www.ncbi.nlm.nih.gov/pmc/articles/PMC4443384/
Neuroprotective and Anti-Aging Potentials of Essential Oils from Aromatic and Medicinal Plants: https://www.ncbi.nlm.nih.gov/pmc/articles/PMC5447774/
---
Disclaimer: All information presented on this website is for informational purposes only. These statements have not been evaluated by the Food and Drug Administration. This website is not intended for diagnosis, treatment, treatment or prevention of disease and is not intended for substitution treatment. This information is not meant to cover all possible uses, precautions, interactions or adverse effects. This information may not fit your specific health circumstances. Never delay or disregard seeking professional medical advice from your doctor or other qualified healthcare providers because of something you have read on whatcure.com. Please seek the advice of a healthcare professional for your specific health concerns.
---