What Is Dill Essential Oil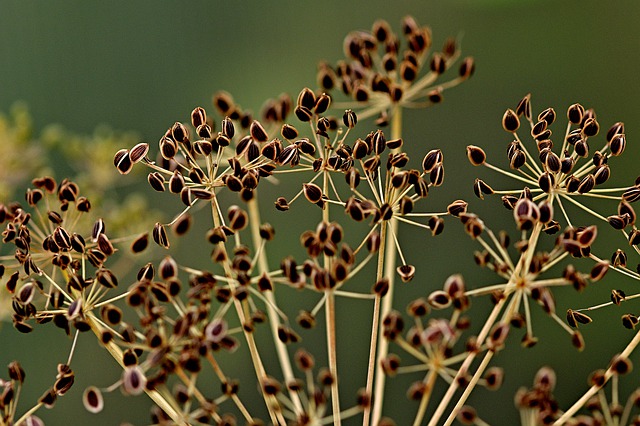 Dill Essential Oil is obtained by steam distillation from seeds and the fresh or dried herb of two plants, botanically known as Anethum graveolens or Anethum Sowa. It is an annual or biennial herb, that grows up to 1 meter high with feathery leaves and umbels of yellow flowers followed by small seeds.
Start Making Your Own Essential Oils- Check The Offer Bellow
---
How To Use Dill Essential Oil 
Dill has been used as a culinary and medicinal herb since ancient times in many cultures. It is even found in one of the oldest medical documents from Egypt, known as the Papyrus of Ebers. Roman soldiers used it before the battle, due to its anti-stress properties. An essential ingredient of babies' gripe water for colic is dill. It is also an important ingredient in pickled cucumbers. Dill Essential Oil is therapeutically used for colic, gastrointestinal spasm, intestinal cramp, gastric spasm indigestion, flatulence, dyspepsia, irritable bowel syndrome, constipation, treating fungal infections, digestive stimulant and detoxifying. It is highly valued as a galactagogue, which stimulates the production of milk for nursing mother, and as an emmenagogue, which is known to alleviate menstrual discomfort, by regulating menstrual flow. Other benefits include anti-stress properties, that help to alleviate anxiety and depression and promote good sleep. It is also great for treating wounds, headaches, and candida. With its hypotensive properties is also great for treating high blood pressure.
---
Dill Essential Oil Benefits
Dill essential oil is highly valued for its antispasmodic, antiseptic, bactericidal, carminative, calmative, cholagogue, digestive, decongestive, depurative, digestive, hepatic, emmenagogue, galactagogue, hypotensive, stimulant, sedative, and stomachic properties.

---
About Dill Essential Oil
Dill Essential Oil made from Anethum graveolens is a colorless to pale yellow liquid with a light fresh, sweet warm spicy aroma. Dill Essential Oil made from Indian dill or Anethum Sowa is a colorless or pale yellow liquid with a strong spicy scent. It blends well with angelica seed, aniseed, bergamot, caraway, cardamom, cinnamon, coriander, grapefruit, elemi, juniper, lemon, mint, mandarin, and nutmeg.
---
Essential Oil Safety Guide For Dill Essential Oil
Dill essential oil is generally considered as non-toxic, non-irritant, and non-sensitizing. It is recommended to avoid if using multiple medications. Do not use it undiluted! Dilute up to 5 drops of essential oil to a tablespoon of carrier oil ( 1% ).
---
---
18 Amazing Health Benefits Of Dill Essential Oil
stimulates the production of breast milk for nursing mother
treats colic
alleviates indigestion, dyspepsia, and flatulence
reduces gastrointestinal spasm, intestinal cramp, and gastric spasm
treats irritable bowel syndrome
digestive stimulant
protects the liver
prevents infections
heals wounds
reduces blood pressure
alleviates menstrual discomfort
removes toxins from the body
prevents candida
reduces nervousness
alleviates anxiety, depression, and insomnia
treats headaches
prevents cancer
anti-inflammatory agent
---
---
Reference:
Ann, V., 2016. The Complete Book Of Essential Oils And Aromatherapy, Revised And Expanded: Over 800 Natural, Nontoxic, And Fragrant Recipes To Create Health, Beauty, And Safe Home And Work Environments. New World Library.
Lawless, J., 2013. The Encyclopedia Of Essential Oils: The Complete Guide To The Use Of Aromatic Oils In Aromatherapy, Herbalism, Health, And Well Being. Conari Press.
Wikipedia: https://en.wikipedia.org/wiki/Dill_oil
---
Disclaimer: All information presented on this website is for informational purposes only. These statements have not been evaluated by the Food and Drug Administration. This website is not intended for diagnosis, treatment, treatment or prevention of disease and is not intended for substitution treatment. This information is not meant to cover all possible uses, precautions, interactions or adverse effects. This information may not fit your specific health circumstances. Never delay or disregard seeking professional medical advice from your doctor or other qualified healthcare providers because of something you have read on whatcure.com. Please seek the advice of a healthcare professional for your specific health concerns.
---