What Is Juniper Berry Essential Oil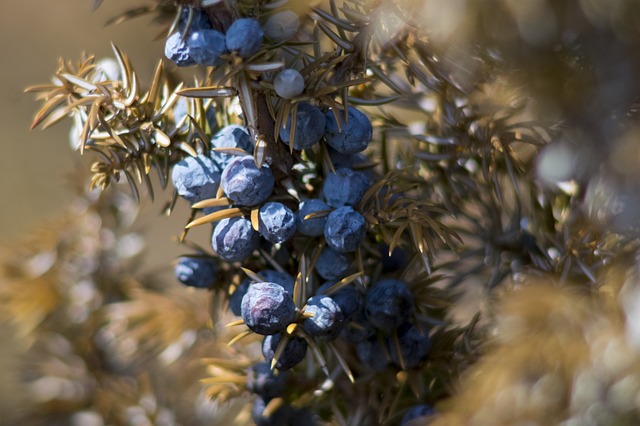 Juniper Berry Essential oil is obtained by steam distillation from berries of a plant botanically known as Juniperus communis. There is also juniper essential oil, which is inferior in quality and is made from needles, berries, twigs, and wood.
Start Making Your Own Essential Oils- Check The Offer Bellow
---
Juniper Berry Essential Oil Uses
Juniper has been used for medicinal, culinary and spiritual purposes since ancient time, it was even mentioned in The Holy Bible and found in Egyptian tombs at multiple sites. Ancient Greeks used the juniper berries in many of their Olympics events, as they believed that berries have the ability to increase physical stamina. The needles and berries have been traditionally used to treat respiratory problems, such as asthma, bronchitis, and cough. It is a superb natural medicine to treat urinary and gastrointestinal infections, as well as rheumatic pain and cystitis. Therapeutic uses of Juniper berry essential oil include treating fluid retention, abdominal bloating, menstrual discomfort, digestive problems, skin infections, mental exhaustion, chronic fatigue, spasms, anxiety, and tension. Juniper berry essential oil has an amazing ability to purify the body from toxins and promote the purification of the blood. It is also a fantastic antiseptic agent, which protects the wounds or other injuries from becoming septic. Juniper berry essential oil is a natural aphrodisiac, capable of bringing pleasure to those who use it regularly. With its sedative properties, it is a great choice for those who struggle with stress-related conditions.
---
Juniper Berry Essential Oil Benefits
Therapeutic properties of Juniper berry essential oil are known as an antirheumatic, analgesic, antiseptic, anthelmintic, antispasmodic, antitoxic, anti-inflammatory, aphrodisiac, astringent, carminative, cicatrisant, depurative, diuretic, emmenagogue, nervine, rubefacient, sedative, stomachic, sudorific, tonic, and vulnerary.

---
About Juniper Berry Essential Oil
Juniper Essential Oil is a colorless to pale yellow liquid with a sweet, fresh, green-woody scent that blends well with basil, bay laurel, bergamot, cardamom, cedarwood, cypress, chamomile, citronella, clary sage, fennel, frankincense, geranium, lavender, lavandin, lemon, pine, rose, rosemary, sandalwood, thyme, turmeric, and yarrow.
---
Essential Oil Safety Guide For Juniper Berry Essential Oil
Generally recognized as safe, non-sensitizing, and non-toxic. It may be slightly irritating. Due to its nephrotoxic effect is best to avoid by those with kidney disease. It stimulates the uterine muscle, therefore must not be used during pregnancy. For aromatherapy use only juniper berry oil, in moderation. The essential oil should be diluted prior to use. Dilute up to 5 drops of essential oil to a tablespoon of carrier oil ( 1% ). Despite GRAS status, essential oils shouldn't be ingested, unless it's done under doctor supervision.
---
---
30 Amazing Health Benefits Of Juniper Berry Essential Oil
treats urinary infections
prevents sepsis
alleviates respiratory problems
soothes asthma, bronchitis, and coughs
treats gastrointestinal infections
relieves cramps
removes toxins from the body
purifies the blood
stimulates urination and sweating
aids weight loss
speeds up healing of wounds, cuts, and bruises
eliminates cellulite
provides relief from hemorrhoids
alleviates symptoms of rheumatism, arthritis, and gout
aids digestion
protects stomach
eliminates gases from the intestines
regulates menstruation flow
natural aphrodisiac
calms the nerves
cures old scars
acts as a tonic
fights skin infections
treats acne, eczema, psoriasis, and dermatitis
reduces fluid retention
eliminates intestinal parasites
improves blood circulation
relieves nervous tension
acts as a stimulant for the whole body
alleviates anxiety, depression, and insomnia
---
---
Reference:
Ann, V., 2016. The Complete Book Of Essential Oils And Aromatherapy, Revised And Expanded: Over 800 Natural, Nontoxic, And Fragrant Recipes To Create Health, Beauty, And Safe Home And Work Environments. New World Library.
Lawless, J., 2013. The Encyclopedia Of Essential Oils: The Complete Guide To The Use Of Aromatic Oils In Aromatherapy, Herbalism, Health, And Well Being. Conari Press.
Wikipedia: https://en.wikipedia.org/wiki/Juniper_berry
---
Disclaimer: All information presented on this website is for informational purposes only. These statements have not been evaluated by the Food and Drug Administration. This website is not intended for diagnosis, treatment, treatment or prevention of disease and is not intended for substitution treatment. This information is not meant to cover all possible uses, precautions, interactions or adverse effects. This information may not fit your specific health circumstances. Never delay or disregard seeking professional medical advice from your doctor or other qualified healthcare providers because of something you have read on whatcure.com. Please seek the advice of a healthcare professional for your specific health concerns.
---