What Is Jasmine Essential Oil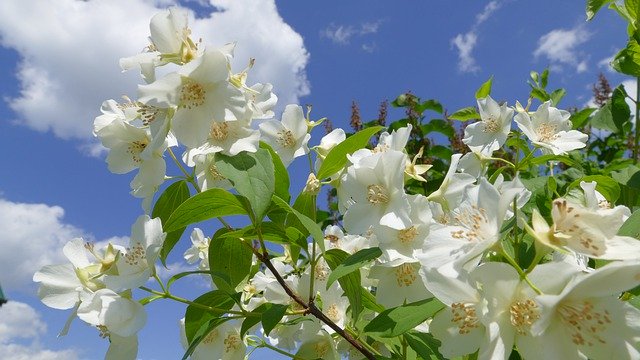 Jasmine Essential Oil is obtained by CO2 or solvent extraction from flowers of the plant botanically known as Jasminum officinale. First, concrete is produced by CO2 extraction. Concrete is then separated with alcohol to obtain the absolute, which is then steam distilled to produce essential oil. More than a ton of flowers are required to obtain 4 pounds of absolute. The flowers are picked at night because they release their perfume at dusk. This very expensive oil is one of the ingredients in the famous Channel No.5 perfume. Known also as the " King of oils " is one of the most valued essential oils worldwide.
Start Making Your Own Essential Oils- Check The Offer Bellow
---
Jasmine Essential Oil Uses
Jasmine has been traditionally used to treat conditions such as hepatitis, liver cirrhosis, conjunctivitis, skin ulcers, tumors, headaches, anxiety, depression, insomnia, joint pain, rheumatism, and cough. In the West, it's believed that jasmine warms the womb and facilitates birth. Women that used it claim the recovery process is less painful and the post-natal period is shorter. Jasmine essential oil is even a great choice for nursing mothers, as it promotes milk secretion. Therapeutic uses of Jasmine essential oil include treating infertility, menstrual discomfort, abdominal spasms, and nervous tensions. Its romantic and sweet scent truly enhances the mood of every individual, bringing feelings of well-being and overcomes apathy, fatigue, insecurity and low self- esteem. Jasmine Essential oil is a natural aphrodisiac capable of bringing pleasure to every home. It is even amazing for treating old scars or fat cracks that happen to pregnant women.
---
Jasmine Essential Oil Benefits
Properties of Jasmine essential oil are known as an antidepressant, anti-inflammatory, antiseptic, antispasmodic, aphrodisiac, calmative, cicatrizant, expectorant, galactagogue, nervine, parturient, sedative, stimulant, and tonic ( uterine ).

---
About Jasmine Essential Oil
The absolute of Jasmine is viscous, dark orange-brown liquid with a sweet, intensely rich floral aroma that blends well with bergamot, black pepper, cardamom, chamomile, clary sage, coriander, frankincense, geranium, ginger, grapefruit, lemon, Melissa, rose, sandalwood, and ylang ylang.
---
Essential Oil Safety Guide For Jasmine Essential Oil
Generally recognized as safe, non- toxic, non-irritant, and non-sensitizing. The essential oil should be diluted prior to use. Dilute up to 5 drops of essential oil to a tablespoon of carrier oil ( 1% ). Despite GRAS status, essential oils shouldn't be ingested, unless it's done under a doctor supervision.
---
---
24 Health Benefits Of Jasmine Essential Oil
aids childbirth
protects uterus
increases lactation in nursing mothers
treats infertility
stimulates sexual desire as a natural aphrodisiac
alleviates menstrual cramp
eliminates old scars and fat cracks after pregnancy
treats hepatitis and liver cirrhosis
skin elixir
alleviates symptoms of psoriasis, eczema, and dermatitis
promotes wound healing
eliminates cellulite
alleviates joint pain, rheumatism, and arthritis
enhances mood
relieves anxiety, depression, and insomnia
promotes well- being
reduces cough
relaxes spasms
increases concentration
sedates the body
calms nervous tensions
prevents infections
anti-inflammatory agent
antiseptic agent
---
---
Reference:
Ann, V., 2016. The Complete Book Of Essential Oils And Aromatherapy, Revised And Expanded: Over 800 Natural, Nontoxic, And Fragrant Recipes To Create Health, Beauty, And Safe Home And Work Environments. New World Library.
Lawless, J., 2013. The Encyclopedia Of Essential Oils: The Complete Guide To The Use Of Aromatic Oils In Aromatherapy, Herbalism, Health, And Well Being. Conari Press.
Wikipedia: https://en.wikipedia.org/wiki/Jasmine
---
Disclaimer: All information presented on this website is for informational purposes only. These statements have not been evaluated by the Food and Drug Administration. This website is not intended for diagnosis, treatment, treatment or prevention of disease and is not intended for substitution treatment. This information is not meant to cover all possible uses, precautions, interactions or adverse effects. This information may not fit your specific health circumstances. Never delay or disregard seeking professional medical advice from your doctor or other qualified healthcare providers because of something you have read on whatcure.com. Please seek the advice of a healthcare professional for your specific health concerns.
---