What Is Clove Essential Oil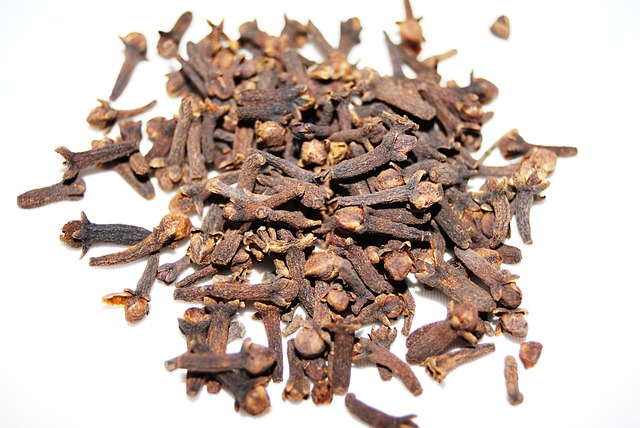 Clove Essential Oil is obtained by steam distillation from dried buds, leaves or stems of a plant botanically known as Syzygium aromaticum, which is an evergreen tree, believed to be native to Indonesia.
Start Making Your Own Essential Oils- Check The Offer Bellow
---
Clove Essential Oil Uses
Clove trees have been cultivated for more than 2000 years. Its value was so important that it even let to be the cause of spice wars with European nations. Because of its medicinal and aromatic values, Clove continues to be an important part of nowadays folk medicine, the cosmetic industry, and the food industry. Traditional folk medicine uses Clove for digestive issues, diarrhea, hernia, skin infections, intestinal parasites, toothache and even to ease the pain of childbirth. It is also known as an excellent pain reliever. It is used for bacterial and fungal infections, warts, gum disease, bad breath, muscle pain, rheumatism, flu, bronchitis, nausea, flatulence, stomach cramp, abdominal spasm, parasitic infection, scabies, and ringworm. Native Indonesians smoke a popular cigarette known as 'Kretak', made from two parts of tobacco and one part of Cloves.
---
Clove Essential Oil Benefits
Therapeutic benefits of Clove Essential Oil can be attributed to its properties as an anthelmintic, analgesic, antibiotic, antibacterial, antiemetic, antifungal, antihistaminic, anti-infectious, antirheumatic, antineuralgic, anti-oxidant, antiseptic, antiviral, aphrodisiac, carminative, expectorant, spasmolytic, stimulant, and stomachic.

---
About Clove Essential Oil
Clove Essential Oil is a pale yellow to pale- brown liquid with warm, sweet and rich spice aroma that blends well with Bay (West Indian), bergamot, black pepper, cardamom, chamomile, cinnamon, fennel, ginger, grapefruit, marjoram, oregano, peppermint, and ylang-ylang. For aromatherapy, only clove oil distilled from buds is used. Clove essential oils made of clove leaves or steams are strong skin irritants.
---
Essential Oil Safety Guide For Clove Essential Oil
There are three types of Clove essential oil known as Clove bud oil, Clove leaf oil, and Clove stem oil. Clove bud essential oil is the most appropriate for aromatherapy, due to the lower eugenol percentage. Clove leaf and Clove stem should be avoided in aromatherapy because they cause strong skin irritations. Although all Clove essential oils can cause dermatitis and skin irritations, Clove bud oil must be used in moderation only in less than one percent dilution ( 3-5 drops of essential oil to a tablespoon of carrier oil ). Avoid during pregnancy and while breastfeeding. Avoid prolonged use.
---
---
36 Health Benefits Of Clove Bud Essential Oil
powerful antioxidant
anti-inflammatory agent
antiseptic and analgesic agent
anticancer agent
detoxifier
painkiller
fights bacterial and fungal infections
heals herpes
treats viral skin infections
heals acne
treats bruises, burns, cuts, and wounds
treats toothache
alleviates gum disease
improves circulation
purifies the blood
protects the liver
treats muscle pain
alleviates symptoms of rheumatism
eliminates warts
kills candida infections
boosts libido
boosts immune system
aids digestion
prevents ulcers
reduces nausea, flatulence, and stomach cramp
helps the cardiovascular system
improves mood
alleviates stress, anxiety, and depression
eliminates headaches
treats respiratory issues
fights bronchitis and asthma
alleviates cough, cold and flu
improves diabetes
promotes healthy hair growth
prevents hair loss
insect repellent
---
---
Reference:
Ann, V., 2016. The Complete Book Of Essential Oils And Aromatherapy, Revised And Expanded: Over 800 Natural, Nontoxic, And Fragrant Recipes To Create Health, Beauty, And Safe Home And Work Environments. New World Library.
Lawless, J., 2013. The Encyclopedia Of Essential Oils: The Complete Guide To The Use Of Aromatic Oils In Aromatherapy, Herbalism, Health, And Well Being. Conari Press.
Wikipedia: https://en.wikipedia.org/wiki/Oil_of_clove
Insecticidal Potential of Clove Essential Oil and Its Constituents on Cacopsylla chinensis (Hemiptera: Psyllidae) in Laboratory and Field: https://www.ncbi.nlm.nih.gov/pubmed/26470216
---
Disclaimer: All information presented on this website is for informational purposes only. These statements have not been evaluated by the Food and Drug Administration. This website is not intended for diagnosis, treatment, treatment or prevention of disease and is not intended for substitution treatment. This information is not meant to cover all possible uses, precautions, interactions or adverse effects. This information may not fit your specific health circumstances. Never delay or disregard seeking professional medical advice from your doctor or other qualified healthcare providers because of something you have read on whatcure.com. Please seek the advice of a healthcare professional for your specific health concerns.
---