What Is Peppermint Essential Oil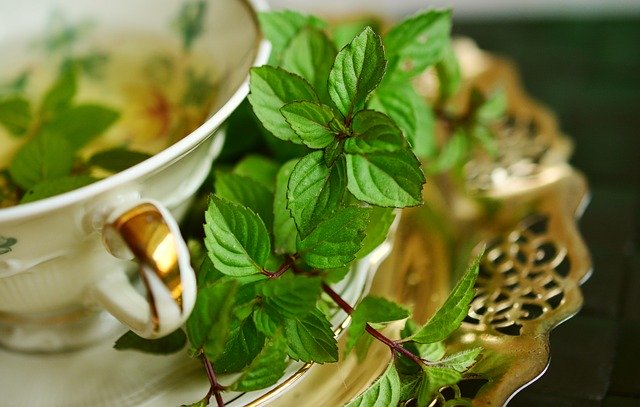 Peppermint Essential Oil is obtained by steam distillation from the fresh or partly dried plant, botanically known as Mentha piperita. There are several chemotypes of peppermint, as well as several different species of Mentha. It is estimated that around 18 species exist, such as Mentha aquatica, M. spicata, M. arvensis, M. citrata, M. longifolia, and M. suaveolens. Mentha piperita is a hybrid between M. aquatica and M. spicata. Peppermints grown in northern regions are the most valued.
Start Making Your Own Essential Oils- Check The Offer Bellow
---
Peppermint Essential Oil Uses
Mints have been used for millennia as one of the most aromatic plants for culinary and medical purposes. A type of peppermint was even found in Egyptian tombs dating from 1000 BC. Asians are cultivating mints since ancient times, it is also mentioned in Greeks mythology. Peppermint Essential Oil can be used topically, internally and in aromatherapy. Surprising health benefits of this oil are so unique that every person should try it. Highly valued for treating a variety of health problems, such as muscular aches and injuries, sciatica, sprains, rheumatism, neuralgia, mental and physical exhaustion, and stress-related conditions. Peppermint Essential Oil is provenly one of the most effective natural remedies for headaches and migraines. With its cooling effect brings instant pain relief and relaxes muscular tensions and muscular spasms. Inhalation of diffused peppermint oil can help those suffering from respiratory problems such as asthma, bronchitis, cough, flu, seasonal allergy, and sinus congestion. It is also highly valued for the effects on the digestion as it helps relieve digestive problems such as nausea, vomiting, colic, flatulence, colitis, diverticulitis, Chron's disease, irritable bowel syndrome, and diarrhea. Women adore it as it brings relief for menstrual cramps. Peppermint essential oil boosts skin health and protects it against skin injuries and infections such as sunburns, cuts, and wounds. It is also used in several high-quality hair products because it can nourish damaged hairs naturally and promote hair growth. Often used in anti-dandruff shampoos as one of the most effective natural alternatives. Those suffering from a toothache, Peppermint Essential Oil can effectively cure it instantly. With its pleasant aroma, it eliminates bad breath as well and works as an insect repellant. Some studies even found that Peppermint Essential Oil can be used as an anticancer agent. This is truly one of the best essential oils in the world. One of my top oils. I believe it cured my sciatica. Amazing oil, try it.
---
Peppermint Essential Oil Benefits
Therapeutic properties of Peppermint essential oil are known as an analgesic, anti-inflammatory, antibacterial, anti-infectious, antipruritic, antiseptic, antispasmodic, antiviral, astringent, carminative, cholagogue, circulatory, decongestant, digestive, emmenagogue, expectorant, febrifuge, hepatic, nervine, stimulant, stomachic, sudorific, vasoconstrictor, vermifuge, and tonic.

---
About Peppermint Essential Oil
Peppermint Essential Oil is a colorless to pale yellow liquid with a strong, penetrating minty aroma. It blends well with angelica seed, basil, bay laurel, bergamot, chamomile, clove, cypress, eucalyptus, juniper berry, lavender, lemon, lemongrass, marjoram, pine, rosemary, tea tree, thyme, and ylang-ylang.
---
Essential Oil Safety Guide For Peppermint Essential Oil
Peppermint Essential Oil is generally considered non-toxic and non-irritant ( except in higher dosages ). Due to menthol can cause sensitization. Always use it in moderation. Should not be used during pregnancy and while breastfeeding. Despite GRAS status, essential oils shouldn't be ingested, unless it's done under doctor supervision. Use it topically in a diluted form. Dilute up to 5 drops of essential oil to a tablespoon of carrier oil ( 1% ).
---
---
42 Health Benefits Of Peppermint Essential Oil
treats muscular aches and injuries
cures sciatica
alleviates painful sprains
relaxes muscular tensions and muscular spasms
reduces rheumatism and arthritis
increases energy
relieves mental and physical exhaustion
alleviates anxiety and depression
reduces stress
improves memory and alertness
alleviates headaches and migraines
eases pain
treats respiratory problems
eases asthma and bronchitis
soothes seasonal allergies and sinus congestions
cures cough and flu
aids digestion
stops diarrhea
relieves nausea, vomiting, and flatulence
treats colic, colitis, and diverticulitis
improves irritable bowel syndrome ( IBS ) symptoms
natural remedy for Chron's disease
alleviates menstrual discomfort
regulates menstrual flow
soothes menstrual cramp
boosts skin health
relieves itchiness
eliminates herpes
cures acne
treats skin injuries, wounds, cuts, and sunburns
improves hair health
promotes hair growth
eliminates dandruff
treats toothaches
freshens bad breath
may be used as an anticancer agent
works as insects repellent
relieves spasms
treats urinary tract infections
improves blood circulation
eliminates fungal nail infections
boosts immune system
---
---
Reference:
Ann, V., 2016. The Complete Book Of Essential Oils And Aromatherapy, Revised And Expanded: Over 800 Natural, Nontoxic, And Fragrant Recipes To Create Health, Beauty, And Safe Home And Work Environments. New World Library.
Lawless, J., 2013. The Encyclopedia Of Essential Oils: The Complete Guide To The Use Of Aromatic Oils In Aromatherapy, Herbalism, Health, And Well Being. Conari Press.
Wikipedia: https://en.wikipedia.org/wiki/Peppermint
Instant effects of peppermint essential oil on the physiological parameters and exercise performance: https://www.ncbi.nlm.nih.gov/pmc/articles/PMC4103722/
Peppermint Oil Promotes Hair Growth without Toxic Signs: https://www.ncbi.nlm.nih.gov/pmc/articles/PMC4289931/
A review of the bioactivity and potential health benefits of peppermint tea (Mentha piperita L.).:https://www.ncbi.nlm.nih.gov/pubmed/16767798
---
Disclaimer: All information presented on this website is for informational purposes only. These statements have not been evaluated by the Food and Drug Administration. This website is not intended for diagnosis, treatment, treatment or prevention of disease and is not intended for substitution treatment. This information is not meant to cover all possible uses, precautions, interactions or adverse effects. This information may not fit your specific health circumstances. Never delay or disregard seeking professional medical advice from your doctor or other qualified healthcare providers because of something you have read on whatcure.com. Please seek the advice of a healthcare professional for your specific health concerns.
---